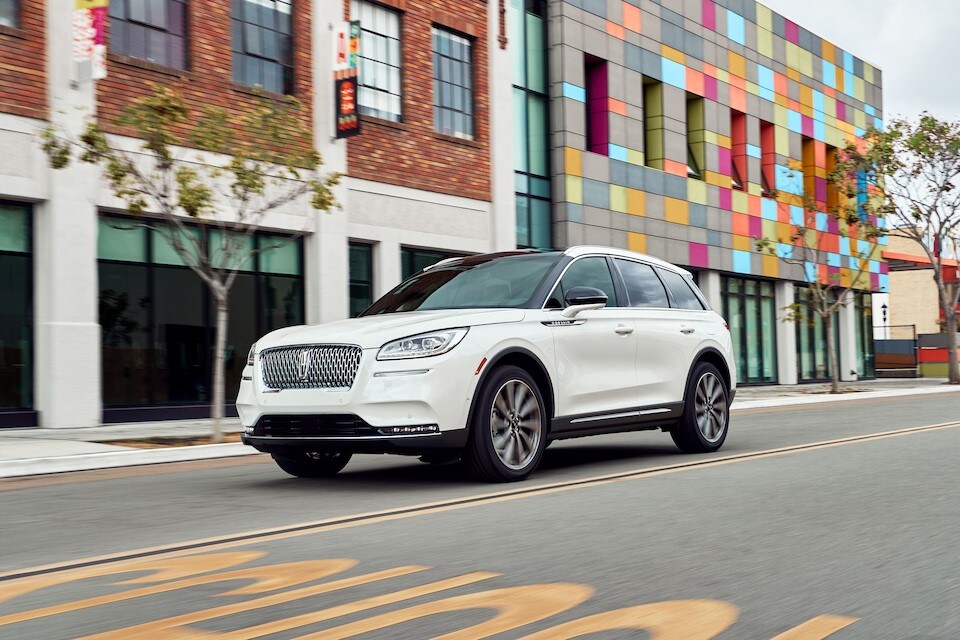 The New Lincoln Corsair is Showing the Competition What it Really Means to be a Luxury SUV
With small SUVs and crossovers showing up everywhere here in the Philadelphia area, from mall parking lots to crowded highways, you may find you'll have to wade through a sea of similar vehicles before you find the perfect one for your needs. Or, you could skip all that hard work and visit us at Pacifico Marple Lincoln and let us introduce you to one of the best SUV options around, the Lincoln Corsair.
The Lincoln Corsair recently joined the collection here at our West Chester Pike dealership in Broomall, and we couldn't be more excited to help you get to know it better. It's stylish, fun to drive, and it seats up to five people comfortably in its spacious and luxurious interior.
If you still find yourself torn between the Lincoln Corsair and another popular crossover, however, we can help. We've done our homework and researched our new SUV against three of its main competitors, to illustrate for you what sets Lincoln engineering apart.
Lincoln Corsair vs. Volvo XC40
Cargo space. Ardmore and Radnor drivers who value having a lot of storage in their SUV will prefer the Lincoln model over the Volvo, as its available cargo hold can accommodate up to 27.6 cubic feet of gear, while the XC40 from Volvo holds just 20.7 cubic feet.
Passenger comfort. Both small SUVs give you space and seating for five people, but you and your passengers will be more comfortable in the Lincoln Corsair than the Volvo. The Lincoln model has about three inches greater legroom for the front seat and 2.5 inches greater legroom for the backseat than the XC40.
Power. When you want to get up and go, the Lincoln Corsair can get you up to highway speeds faster than the Volvo XC40, thanks to its more-powerful engine options. The Volvo XC40 starts with a standard 187 horsepower system, while the Lincoln Corsair offers standard 250 horsepower. Both models also have upgraded powertrains available, but the Lincoln still outshines the Volvo in that comparison.
Lincoln Corsair vs. Acura RDX
Engine power and options. Lincoln understands that Haverford drivers like options, and they deliver with the new Lincoln Corsair. Two engines are available here, starting with a turbocharged 250-horsepower four-cylinder, with the option of upgrading to a 295-horsepower turbocharged engine. The Acura RDX, on the other hand, has only one engine available, a 272-horsepower four-cylinder system.
Trim levels. The Acura RDX also eliminates driver's choice in trims. While the Lincoln Corsair has a range of trim options, Acura drivers have to choose from package options in order to add on and get upper-level features on their single-trim SUV.
Interior and exterior color schemes. Like to pick and choose the colors for your SUV to get exactly what you like? With the Lincoln Corsair, you can. In fact, there are 6 interior colors and 9 exterior options, while the Acura RDX has just 2 for the interior and 8 for the exterior.
Lincoln Corsair vs. Lexus NX
Interior space. Enjoy more room in the front and backseats with the Lincoln Corsair than the Lexus NX. That's because the Lincoln model averages an inch more headroom, and two inches more legroom, than the Lexus SUV.
Cargo hold. Whether it's suitcases or groceries, you can take more with you in a Lincoln Corsair than a Lexus NX. A lot more. The Lincoln holds 27.6 cubic feet of cargo, while the Lexus holds just 17.7 cubic feet.
Options. As with the Acura comparison before this, the Lincoln Corsair also allows drivers more choices than the Lexus when it comes to customizing their vehicle. There is just one engine for the Lexus, compared to two options for the Lincoln, and there are only two trims for the Lexus NX, compared to five incredible, well-equipped trim levels for the Lincoln Corsair.
Test Drive the Lincoln Corsair near Philadelphia
The best way to determine which is your next SUV? A test drive, of course. Stop by and visit us in person and let our sales team introduce you to the new Lincoln Corsair in person and see firsthand everything that sets it apart from the competition.